Batman Foggy Logos Sublimation Gray Tee Shirt
Size Guide
$24.99
Mens gray sublimation Batman tee shirt. Featuring a foggy yellow bat signal and bats flying around. This item is hand-printed in the USA using a dye sublimation printing process that creates slight imperfections over seams and/or folds, creating a unique item every time. Cotton/poly fabric blend with a soft, slightly faded vintage feel. White back. Please note: This item ships via standard/ground shipping within the USA ONLY, separately from the rest of your order. No express mail services or international shipping are available for this item. Please allow 3-5 business days for this item to ship.
---
Related Items
Bane Flex Juniors T Shirt - Gray
$24.99
---
Authentic Gray Bane "Flex" Juniors T Shirt Batman. Shirt is 100% cotton.
View full product details
Bane Head Juniors T Shirt - Black
$24.99
---
Official Black Bane "Head" Juniors T Shirt. Shirt is 100% cotton.
View full product details
Sizing Charts
For all Superhero related apparel:
This size chart shows average approximations in clothing measurements for both men and women. We carry many different brands of clothing and many of these brands vary slightly in size.
Our women's clothing is photographed on a very slim mannequin in size Small.
Hats are usually one-size, and either have adjustable straps or are fitted. Most fitted hats are flex-fit so they will stretch to accommodate many different head sizes.
Bikinis sold as sets cannot be broken up into two different sizes.
Men's Clothing:
Small
  34-36"
28-30"
Medium
  38-40"
30-32"
Large
  42-44"
34-35"
X-large
  46-48"
36-38"
2X-large
  50-52"
39-40"
3X-large
  54-56"
n/a
Ladies's/Junior's Clothing:
Small
    30-32"
24-26"
Medium
    32-34"
27-28"
Large
    34-36"
29-30"
X-large
    36-38"
31-32"
Measuring instructions
Chest/Bust:
Raise your arms and measure around the fullest part of your chest, keeping the tape parallel to the ground.
Waist:
Measure around your body where your pants usually sit. Keep one finger between the tape and your body for accuracy.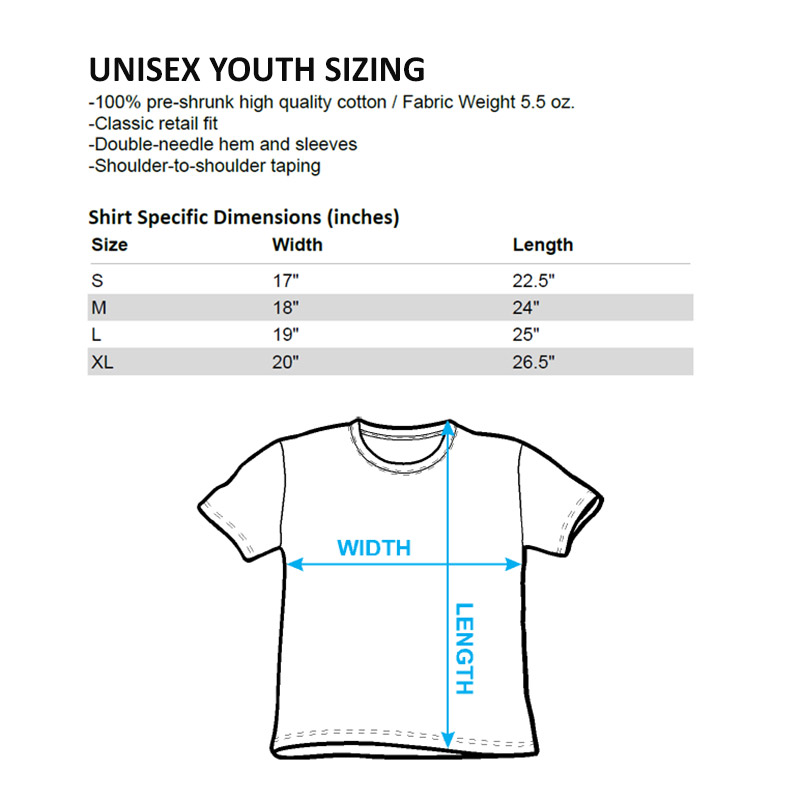 For All Other Shirts and Hoodies:
| Size | A | B |
| --- | --- | --- |
| S | 18" | 28" |
| M | 20" | 29" |
| L | 22" | 30" |
| XL | 24" | 31" |
| 2XL | 26" | 32" |
| 3XL | 28" | 33" |
Hoodies:
| Size | A | B | C |
| --- | --- | --- | --- |
| S | 20" | 27" | 35" |
| M | 22" | 28" | 36" |
| L | 24" | 29" | 37" |
| XL | 26" | 30" | 38" |
| 2XL | 28" | 31" | 39" |
| 3XL | 30" | 32" | 40" |
| 4XL | 32" | 33" | 41" |