Green Lantern Logo I-Phone 5 Case
Size Guide
$29.99
This Green Lantern I-Phone 5 Case has one-piece snap-on installation and high gloss finish. It wraps around the corners with a hard shell polycarbonate construction and gives access to I-Phone camera and all features. The design isnt a sticker or skin - its laser engraved or printed using a HighColor process.
---
Related Items
Adventure Time Fist Bump Fleece Blanket
$32.99
---
Officially licensed Adventure Time blanket. Measuring 46 inches by 60 inches this blanket is made from fleece and featuring Jake and Finn fist bumping.
View full product details
Avengers Group Large Button
$5.99
---
This white, high quality plastic button has the images of Hulk, Captain America, Iron Man, and Thor. Since Hulk is so huge, these guys didnt fit on to the standard small size but I think these heros will find this large, 3 Inch button to be rather enjoyable.
View full product details
Batman 10 Inch Patch
$17.99
---
Authentic Batman iron on patch. About 10 inches wide, portraying the original Batman emblem. Officially licensed.
View full product details
Sizing Charts
For all Superhero related apparel:
This size chart shows average approximations in clothing measurements for both men and women. We carry many different brands of clothing and many of these brands vary slightly in size.
Our women's clothing is photographed on a very slim mannequin in size Small.
Hats are usually one-size, and either have adjustable straps or are fitted. Most fitted hats are flex-fit so they will stretch to accommodate many different head sizes.
Bikinis sold as sets cannot be broken up into two different sizes.
Men's Clothing:
Small
  34-36"
28-30"
Medium
  38-40"
30-32"
Large
  42-44"
34-35"
X-large
  46-48"
36-38"
2X-large
  50-52"
39-40"
3X-large
  54-56"
n/a
Ladies's/Junior's Clothing:
Small
    30-32"
24-26"
Medium
    32-34"
27-28"
Large
    34-36"
29-30"
X-large
    36-38"
31-32"
Measuring instructions
Chest/Bust:
Raise your arms and measure around the fullest part of your chest, keeping the tape parallel to the ground.
Waist:
Measure around your body where your pants usually sit. Keep one finger between the tape and your body for accuracy.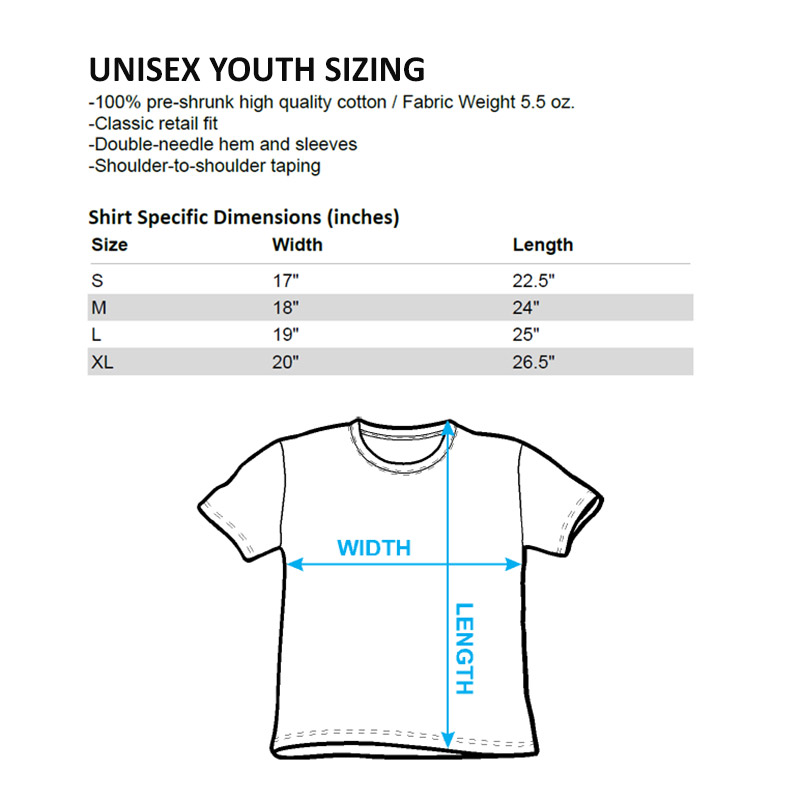 For All Other Shirts and Hoodies:
| Size | A | B |
| --- | --- | --- |
| S | 18" | 28" |
| M | 20" | 29" |
| L | 22" | 30" |
| XL | 24" | 31" |
| 2XL | 26" | 32" |
| 3XL | 28" | 33" |
Hoodies:
| Size | A | B | C |
| --- | --- | --- | --- |
| S | 20" | 27" | 35" |
| M | 22" | 28" | 36" |
| L | 24" | 29" | 37" |
| XL | 26" | 30" | 38" |
| 2XL | 28" | 31" | 39" |
| 3XL | 30" | 32" | 40" |
| 4XL | 32" | 33" | 41" |