Wonder Woman Reversible Womens Hoodie
Size Guide
$49.99
Officially licensed womens Wonder Woman reversible hoodie. One side comes in red with the WW logo and one side comes in blue with a star print and WW logo. Made from a cotton/poly blend.
---
Related Items
Wonder Woman Juniors Sublimated Pose Tee Shirt
$32.99
---
Officially licensed sublimated Wonder Woman junior tee shirt. Features a large image of Wonder Woman posing on front holding her golden lasso. Made from 100% polyester. Due to the nature of the sublimation printing process, each shirt is unique and there will be some white highlights around the creases of the shirt on the sleeves and sides. These effects are not "defects" but are part of the design process and are common on all sublimation print tees.
View full product details
Wonder Woman Wrist Cuff Two-Pack
$27.99
---
Wonder Woman wrist cuffs. Made of metal and comes in a set of two, these cuffs resemble the wrist cuffs of Wonder Woman. Officially licensed.
View full product details
Wonder Woman Womens Rhinestone Logo Red Tee Shirt
$29.99
---
Officially licensed womens Wonder Woman tee shirt. Comes in red and features a rhinestone WW logo on the front. 100% cotton.
View full product details
Sizing Charts
For all Superhero related apparel:
This size chart shows average approximations in clothing measurements for both men and women. We carry many different brands of clothing and many of these brands vary slightly in size.
Our women's clothing is photographed on a very slim mannequin in size Small.
Hats are usually one-size, and either have adjustable straps or are fitted. Most fitted hats are flex-fit so they will stretch to accommodate many different head sizes.
Bikinis sold as sets cannot be broken up into two different sizes.
Men's Clothing:
Small
  34-36"
28-30"
Medium
  38-40"
30-32"
Large
  42-44"
34-35"
X-large
  46-48"
36-38"
2X-large
  50-52"
39-40"
3X-large
  54-56"
n/a
Ladies's/Junior's Clothing:
Small
    30-32"
24-26"
Medium
    32-34"
27-28"
Large
    34-36"
29-30"
X-large
    36-38"
31-32"
Measuring instructions
Chest/Bust:
Raise your arms and measure around the fullest part of your chest, keeping the tape parallel to the ground.
Waist:
Measure around your body where your pants usually sit. Keep one finger between the tape and your body for accuracy.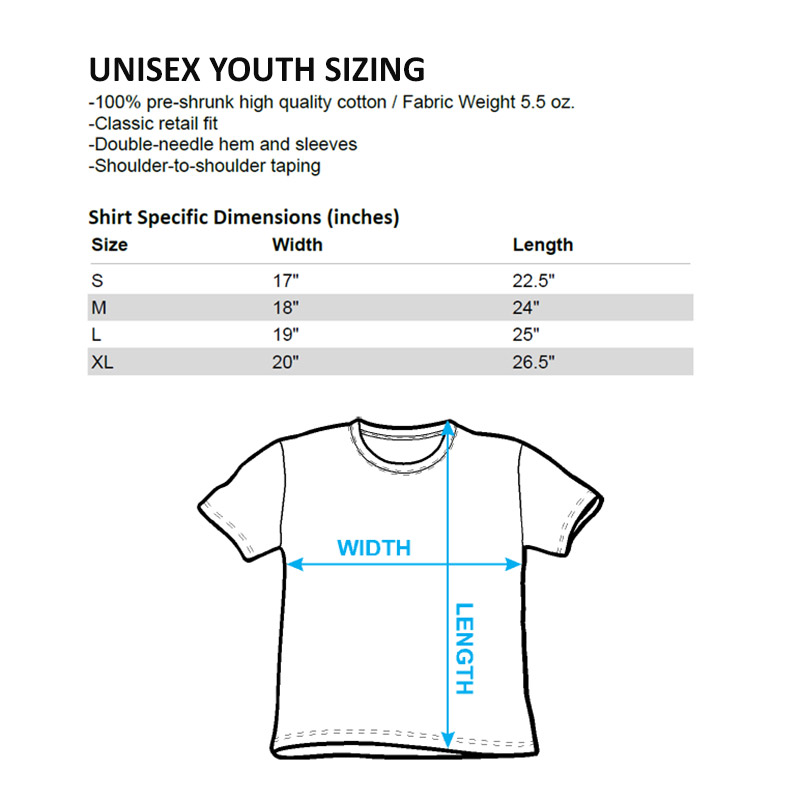 For All Other Shirts and Hoodies:
| Size | A | B |
| --- | --- | --- |
| S | 18" | 28" |
| M | 20" | 29" |
| L | 22" | 30" |
| XL | 24" | 31" |
| 2XL | 26" | 32" |
| 3XL | 28" | 33" |
Hoodies:
| Size | A | B | C |
| --- | --- | --- | --- |
| S | 20" | 27" | 35" |
| M | 22" | 28" | 36" |
| L | 24" | 29" | 37" |
| XL | 26" | 30" | 38" |
| 2XL | 28" | 31" | 39" |
| 3XL | 30" | 32" | 40" |
| 4XL | 32" | 33" | 41" |